Raw Dog Food Recipes




Before getting into any raw dog food recipes, lets first talk a little bit about the raw diet. Raw diet for dogs is somewhat controversial; you will find people who swear by it and people who don't believe it is the right choice for them.

People who support the raw diet for dogs will tell you and rightly so that a dogs digestive tract is different from a humans and is very similar to a wolves, therefore dogs should eat very little grains or vegetables and eat mostly meat and only raw meat and bones. I have heard of incredible success stories about dogs with allergies, arthritis and a host of other ailments being helped tremendously by eating a raw diet. However feeding a diet exclusively of raw meat and bones can definitely have its drawbacks.

A couple of reasons you may want to avoid feeding a raw diet for dogs would be that there will definitely be an increase in the probability of spreading micro organisms to humans and even though most dogs digestive systems can easily handle these organisms you would not want to transfer these bugs to yourself, your children or your friends. If your dog loves to give kisses be aware of the increased risk, there is also increased risk in making your dog ill, so if you do choose to feed a raw diet.

Do not use processed meats. Your best bet when making your own dog food, is to develop a relationship with your local butcher. Often you can get scraps that would not always make it to the shelf or you may also be able to cheaply obtain bones, and other animal parts that will be good for your dog. Raw bones for your dog are a great way to naturally clean teeth.

Feeding a raw diet or giving raw meals can be especially convenient for families that have avid hunters, if you are able to obtain wild game that is one of the better choices if going to a raw diet, the main objective is to get great benefit, with little risk. When feeding a raw dog food diet this can be difficult for some people and therefore, is not always the best option. For a list of some meats and vegetables you may want to incorporate into your dogs diet visit my human food for dogs page. Also check my dangerous food for dogs page for some foods to avoid.

Please let me stress again if you choose to go with a raw diet for dogs make sure you do your research! I would also suggest speaking to your vet prior to making any drastic change in your dog's diet. Here are a couple of easy raw dog food recipes or actually they are almost more like non recipes due to their extreme simplicity.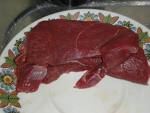 Canine Venison Stew

½ Pound raw deer meat (use the tuffer cuts, dogs love to chew)

1 whole egg with shell

1 Cup organ meat

1/2 Cup plain yogurt

1 cup sliced carrots

1 medium sized bone

You can make larger or smaller portions depending on the size of your dog you can also portion out into meals and freeze for later use. You may choose to feed the bone after the meal as a treat and great way to clean the teeth..

Never feed cooked or old bones, always watch your dog eat the bone. You can choose whatever type of fresh unprocessed meat is easily available for your raw dog food recipes. You can also add fresh uncooked vegetables to the mix the rule of thumb for making raw dog food recipes 80 percent meat 20 percent vegetable.

Try giving your dog a good variety and if switching to a raw diet for dogs, do so slowly letting their system adjust, also whenever changing your canines diet watch your dog closely for any adverse reaction to making your own dog food. No matter what type of food your feeding your dog it's a good Idea to add a multivitamin to your dogs diet for increased longevity and less trips to the vet. Sure your dog is getting more natural nutrition when you make dog food but are they getting everything they need? Most high quality dog foods are infused with chelated minerals and vitamins consider give your dog vitamins
to assure good balance.




Return from raw dog food recipes to making your own dog food
Custom Search
Share your own recipe or thoughts about this subject.
Do you have a great recipe or story about this? Share it!